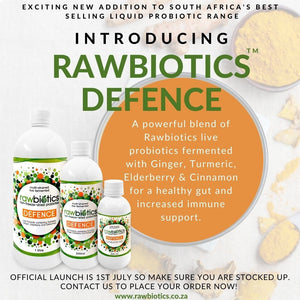 Rawbiotics DEFENCE
Rawbiotics DEFENCE is a live probiotic containing a potent blend of ginger, elderberry, turmeric, and cinnamon extracts to support a healthy gut and immune system.
Dosage and Directions:
Adults: 30ml per day (compromised digestive systems: start with 10ml per day and build up to recommended dosage). 
Children: 15ml per day or use Rawbiotics Kids
Can be taken at any time, with or without food.
Ingredients: 100% Natural Fruit juices, Kelp, Natural Sugar Cane Molasses, Sodium Chloride, Purified & Structured Water, Efficient Microbes Food Grade Beneficial Cultures and Herbal extract blend (Turmeric (95% Curcuminoids), Ginger Root, Cinnamon & Elderberry).
Species: Bacillus subtilis, Bifidobacterium animalis, B. bifidum, B. longum, Lactobacillus acidophilus, L. casei, L. bulgaricus, L. fermentum, L. plantarum, Lactococcus lactis, Saccharomyces cerevisiae, Streptococcus thermophilus