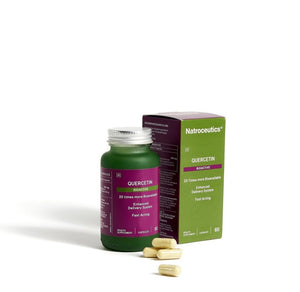 Quercetin is a natural flavonoid found in small amounts across a wide variety of fruits and vegetables. Whilst it has various health related benefits, it is most popularly used and researched in the areas of allergy, inflammation, and immune modulation. Unformulated quercetin is poorly absorbed in the gut and metabolised quickly, meaning large amounts need to be taken on a frequent basis in the hopes of delivering any major benefit.
Natroceutics Quercetin utilises Quercefit™, which is shown to enhance the bioactivity and efficacy of quercetin. It helps with modulating histamine reactions in allergies as well as supporting inflammatory and immune response. Natroceutics Quercetin is researched in the fields of allergy, asthma and dermatology.
This product is not evaluated by the The South African Health Products Regulatory Authority (SAHPRA) and is not intended to diagnose, treat, cure, or prevent any illness or disease. If you are on chronic medication or diagnosed with a chronic condition, contact your healthcare professional before taking any supplement. Discontinue immediately if any adverse reactions occur. If in any doubt, we recommend you consult with you doctor before use.