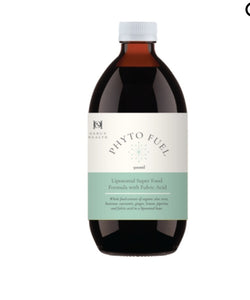 Oshun Health's Phyto Fuel is a whole food extract of organic aloe, beetroot, curcumin, fulvic acid, ginger, and lemon, in a liposomal base. It is made using fulvisome absorption and extraction technology that does not affect the phytochemical structure of the plant and keeps it preserved for an extended period.
Phyto Fuel contains the following active ingredients: Curcuminoids, Piperine, Fulvic Acid, Vitamin C, Dietary Nitrate, Gingerol, Betalain, Betaine and Minerals (Himalayan). Thyme is used as a preservative. 
What can the active ingredients in phyto fuel do for you?
Beetroot is a great source of many essential vitamins and minerals like folate (vitamin B9), Manganese, Potassium, Iron, and Vitamin C.
Curcumin is the main active ingredient in turmeric. It has powerful anti-inflammatory effects and is a very strong antioxidant.
Ginger has been shown to lower blood sugar levels and improve various heart disease risk factors.
Aloe vera helps to lower blood sugar levels.
Vitamin C supports the function of various immune cells and enhances their ability to protect against infection.
Fulvic acid is the transport system used by all living organisms to facilitate the absorption of nutrients.
Piperine makes curcumin, which is generally very difficult for the body to absorb, 2000 times more bioavailable. 
Himalayan salt contains minerals like Calcium, Potassium, Magnesium, Iron, and Sodium.