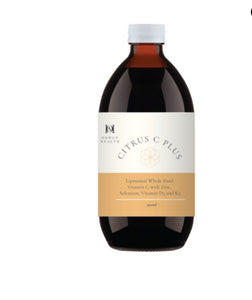 Oshun Health's Citrus C Plus is a liposomal whole food natural Vitamin C that is extracted directly from organic oranges, lemons and baobab with added zinc and selenium, vitamin D3 and K2.
Why are these elements important?
Vitamin C helps to improve the human immune system.
Zinc homeostasis is crucial for the adequate function of the immune system.
Vitamin D3 contributes to the maintenance of strong bones and teeth, and in the absorption of calcium and phosphorus.
Vitamin K2 and D3 helps the body use calcium properly to build bone instead of depositing it dangerously in arteries and soft tissue.
Like Citrus C, Citrus C Plus uses fulvisome absorption technology which means that the nutrients are delivered straight to the cells of the body. Vitamin C, zinc, selenium, vitamin D3 and K2 are all important elements in maintaining a strong immune system.