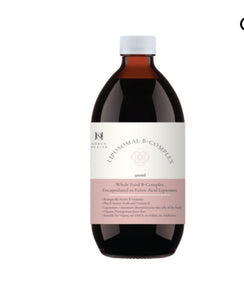 Liposomal B-Complex is made of the metabolites of vitamin‐producing microorganisms (probiotics). It, therefore, provides a natural alternative to chemically synthesised vitamin B supplements while not containing any animal products. All the B-vitamins in Liposomal B-Complex are in metabolically active form. The product also, naturally, contains 8 essential amino acids as well as vitamin K and other nutrients. These elements work together to provide a more comprehensive nutritional benefit.
Why is vitamin B important?
Vitamin B1 (Thiamin) helps the body's cells change carbohydrates into energy.
Vitamin B2 (Riboflavin) works with the other B Vitamins and is important for body growth.
Vitamin B3 (Niacin) helps the body to convert food into glucose and contributes to the reduction of tiredness and fatigue.
Vitamin B6 (pyridoxine) is involved in the production of the neuro-transmitters serotonin and norepinephrine.
Vitamin B9 (Folate) is needed by the body to make DNA and other genetic material.
Vitamin B12 (Cobalamin) is crucial for the normal function of the brain and nervous system.
A great plus: it has organic pomegranate juice as a base giving it a pleasant taste you will love!