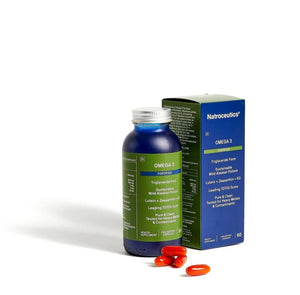 Natroceutics delivers an Omega 3 for those who do not wish to compromise on quality and expect the best in purity and efficacy from their Omega 3 supplementation.
It is produced from sustainable, wild caught Alaskan pollock. Each batch is tested for absolute purity and is free from heavy metals and contaminants with a market leading TOTOX score of no more than 5 at encapsulation.
The Omega 3 fatty acids are in a superior triglyceride form as nature intended them to be. Delivering an impressive 400 mg of EPA and 300 mg of DHA in each 1000 mg capsule.
The Fortified version of Omega 3 has the addition of Lutemax 2020™ which is a researched and globally recognized Lutein + Zeaxanthin combination supported by scientific evidence. Over and above this, each capsule also contains Vitamin K2 as K2Vital®. This produces the ultimate combination to enhance the cardiovascular, cognitive and eye health benefits of our Omega 3.
This product is not evaluated by the The South African Health Products Regulatory Authority (SAHPRA) and is not intended to diagnose, treat, cure, or prevent any illness or disease. If you are on chronic medication or diagnosed with a chronic condition, contact your healthcare professional before taking any supplement. Discontinue immediately if any adverse reactions occur. If in any doubt, we recommend you consult with you doctor before use.