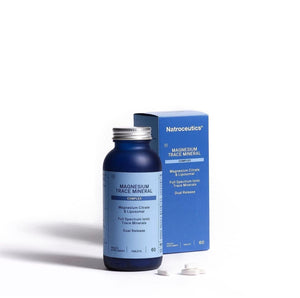 Natroceutics Magnesium Complex is developed to deliver optimal levels of magnesium and overcome the limitations of conventional supplementation through a complex which includes liposomal magnesium, magnesium citrate and the full spectrum of complete trace minerals.
Common signs of magnesium deficiency:
Chronic fatigue.
Body weakness. 
Anxiety and depression. 
Poor concentration.
Muscle cramps.
Digestive disorders. 
Headaches.
Insomnia.
Muscle cramping and twitching.  
Numbness and tingling in the body.
This product is not evaluated by the The South African Health Products Regulatory Authority (SAHPRA) and is not intended to diagnose, treat, cure, or prevent any illness or disease. If you are on chronic medication or diagnosed with a chronic condition, contact your healthcare professional before taking any supplement. Discontinue immediately if any adverse reactions occur. If in any doubt, we recommend you consult with you doctor before use.