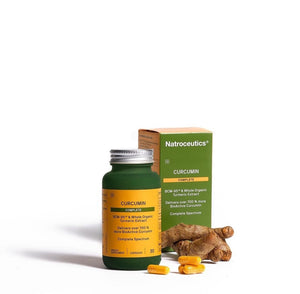 Curcumin is a powerful inflammatory modulator – meaning it can positively assist with the healthy expression of inflammation in the human body.
Curcumin Complete is the perfect complement of curcumin and turmeric supplementation that delivers the best of modern science while overcoming the limitations of curcumin absorption. It combines market-leading BCM-95™ curcumin with specialised whole organic turmeric extracts that generates the full spectrum of turmeric terpenoids and bioactives. This allows your body to efficiently deliver high levels of bioactive curcumin and whole turmeric into the blood stream via a convenient single capsule.
Active for over eight hours.
A patented combination of curcuminoids + Ar-turmerone oil.
Over 70 published clinical trials supporting the use of BCM-95™ for health purposes.
Produced entirely from Green Energy.
Recommended by health professionals and used by millions around the world.
Turmeric Characteristics
Supplies the full spectrum of turmeric terpenoids and bioactives.
Exclusively from whole organic turmeric as nature intended.
Produced through a specialised water extraction method using only certified organic turmeric.
This product is not evaluated by the The South African Health Products Regulatory Authority (SAHPRA) and is not intended to diagnose, treat, cure, or prevent any illness or disease. If you are on chronic medication or diagnosed with a chronic condition, contact your healthcare professional before taking any supplement. Discontinue immediately if any adverse reactions occur. If in any doubt, we recommend you consult with you doctor before use.