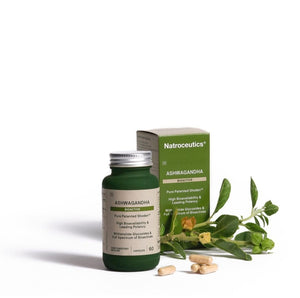 Ashwagandha (Withania somnifera) is revered as an essential herb in Ayurveda, used for thousands of years as a medicine with the potential to act as a powerful adaptogen. Adaptogens are natural substances found to increase the body's resilience and ability to recover from physical and emotional stressors. They work by reducing and maintaining healthy levels of stress hormones like cortisol.
With hundreds of clinical trials and published studies supporting its use in health products, ashwagandha has risen in popularity to manage and recover from excessive stress and to improve and modulate the mind and body's response and function.
This product is not evaluated by the The South African Health Products Regulatory Authority (SAHPRA) and is not intended to diagnose, treat, cure, or prevent any illness or disease. If you are on chronic medication or diagnosed with a chronic condition, contact your healthcare professional before taking any supplement. Discontinue immediately if any adverse reactions occur. If in any doubt, we recommend you consult with you doctor before use.