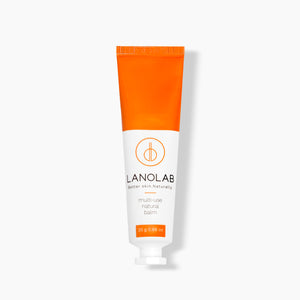 Lanolab Skin Repair Cream has been developed by a pharmacist in South Africa, using only 2 skin loving ingredients: Medical grade lanolin, which hospitals use on open wounds, and has a molecular structure that most closely resembles that of human skin lipids; with Paw Paw which is a nutrient-rich fruit full of antioxidants, vitamins and minerals including calcium, magnesium, potassium, iron and vitamins A and C. When applied externally, it helps with skin repair and also smooth's and tightens the skin.
Brilliant solution for soothing and healing dry and chapped lips caused from extreme weather conditions. Also provides natural solution for cracked and chapped lips from acne medication.
Shapes eyebrows, soothes any redness post waxing and preps lips to give a natural glow. 
Reduces inflammation and a soothing solution for sun burnt skin.
Soothes saddle sores, gravel rash and post-run and surf chafing.
Effective in tackling and nourishing split and cracked heels.
First aid for families for minor burns, cuts, grazes and skin irritations. Assists in healing minor cuts and assists with healing and nourishing inflamed sunburnt patches of skin. 
Softens rough and calloused hands from dry winter weather conditions or gym.
Apply to chapped/dry cuticles to assist with smoothing them. 
Protects and nourishes dry skin.
Soothes nappy rash and sore cracked nipples.
For external use. Always do a test patch on skin first.